Week of May 8 – 12, 2017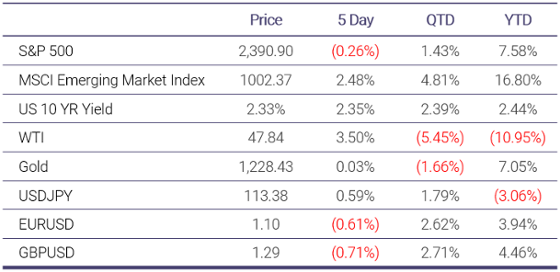 Equities
The S&P 500 decreased by 0.26% last week as political headlines and poor economic data were key selling catalysts. President Trump's surprise firing of FBI Director James Comey has caused many analysts to push back their forecasts for tax cuts to 2018, if the cuts were to happen at all. The worry is that tax cuts were already beginning to look unlikely, and now that the president has angered many Congressmen and women, his political capital may have run dry. Earnings remained positive this week, with 32 of the 40 companies that reported beating expectations, bringing first quarter growth to 14.7%.
Fixed Income
The 10-year interest rate was slightly down last week after Friday's poor inflation and retail sales report. Inflation has now missed expectations for two months in a row, and core CPI ticked below 2% for the first time since September 2015. Retail sales, which were released at the same time, were also weak with headline retail sales missing expectations with 0.4% growth. The negative economic data releases were a continuation of the recent trend of poor economic data, but markets are still expecting a rate increase from the Fed in June.
Currencies
The dollar was actually stronger last week despite the weak economic data and an overwhelming victory from Emmanuel Macron in the French presidential election. The dollar strengthened slightly every day except Friday, when the poor economic data was too much to overcome. The euro finished down 0.61% versus the dollar at 1.10.
The dollar was also stronger versus the yen, increasing by 0.59% to 113.38.
Commodities
Oil finally received some good news last week, as a bullish storage report pushed crude 3.5% higher. Overall inventories, Cushing inventories, and gasoline inventories all posted larger withdrawals than expected. After months of negative inventory reports, the news was very well received by oil markets despite another US production and rig count increase.
Outside of energy, commodities were relative subdued last week; gold increased 0.03%, copper 0.02%, and corn by 0.13%.
Economic Data Last Week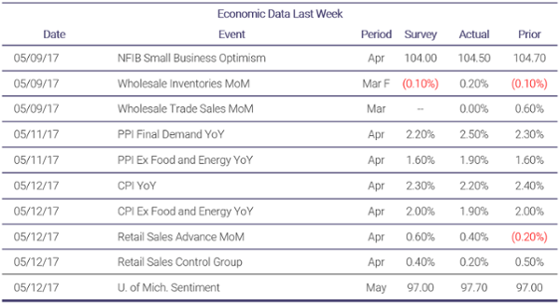 What to Watch for This Week
 Economic data is light this week, with all major data releases occuring on Tuesday.
Economic Data This Week

Interesting Articles
Disclaimer: All data and comments are as of May 12, 2017