Weekly Market Update, May 1-5
Week of May 1 – 5, 2017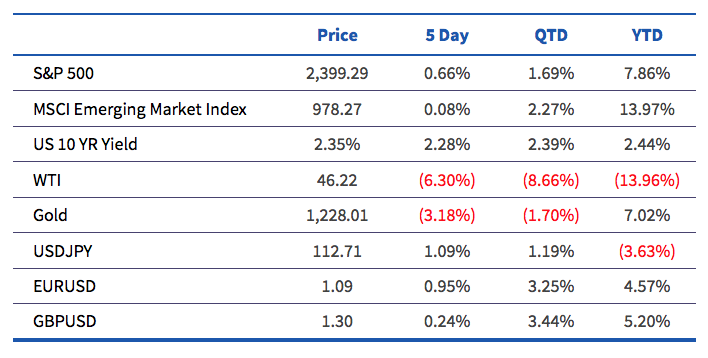 Equities
The S&P 500 increased 0.66% as markets were slightly calmer, but the geopolitical environment continued to dominate headlines. The US presidential administration chose to focus on health care reform last week, which passed a House vote on Thursday and is currently in the Senate. Goldman Sachs believes the renewed focus on health care could push back tax reform until 2018, if it happens at all. Earnings continued to surprise to the upside, as 86 of 121 companies that reported last week beat expectations. EPS growth for the quarter is now 14.7% versus 8.8% expected.
Fixed Income
Interest rates were higher across the curve again, with the 10-year increasing seven basis points on the week to end at 2.35%. The Federal Reserve's May meeting came and went without much notice, and the Fed left rates unchanged. They did, however, choose to mark the Q1 GDP figure as "transitory", leading markets to believe that a June hike is all but guaranteed. The belief was reinforced on Friday after the April jobs report showed that 211k jobs were added in the month. The market probability of a June rate hike is now 100%.
Currencies
The dollar was again weaker versus the euro as markets prepared for Sunday's French election. The euro strengthened by over 1% on Thursday after the last French debate resulted in an overwhelming victory for Emmanuel Macron. Even Le Pen's campaign announced that they would be thrilled with "just 40% of the vote" during Sunday's election.
The continued risk-on sentiment drove the yen weaker, as it finished down 1.09% to 112.71.
Commodities
Oil continued its recent trend, decreasing by 6.3% to $46.22 per barrel, its lowest level since the OPEC agreement was announced. The inventory report showed a smaller than expected drawdown combined with another build in gasoline inventories. US production and the rig count also increased yet again. The rig count has only declined in three weekly readings since June 2016, more than doubling its lows of 316 to its current count of 706. Libya also restarted production at its largest oil field, helping provide even more supply to global markets.
Economic Data Last Week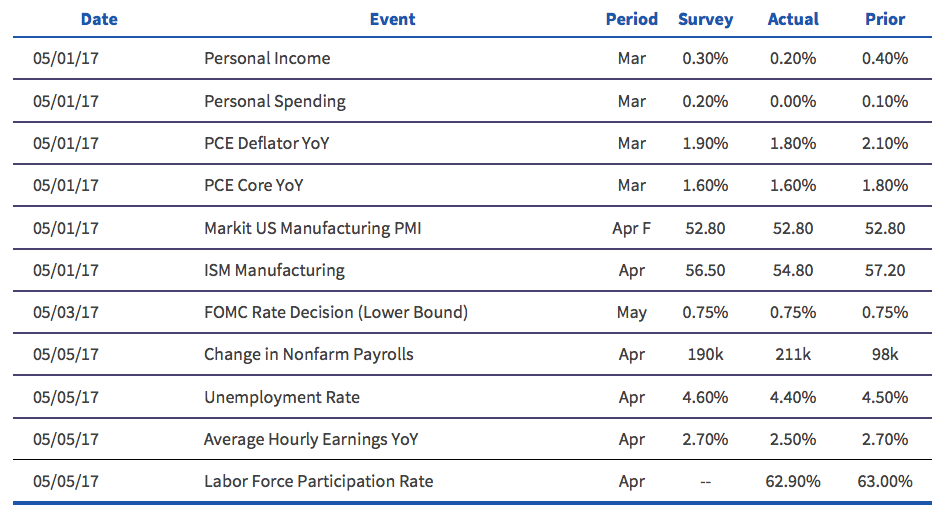 What to Watch for This Week
Inflation data highlights another busy week of economic data that is capped off by retail sales on Friday.
Earnings season begins winding down this week, with just 40 companies reporting.
Economic Data This Week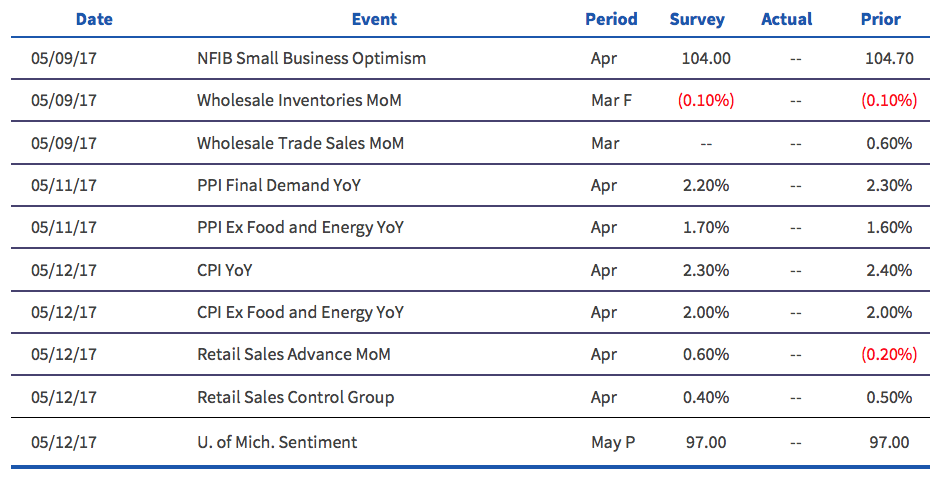 Interesting Articles
Bloomberg: Apple Buys More Company Debt Than World's Biggest Bond Funds
FT: Greece agrees bailout reforms deal with creditors
FT: Macron emerges as clear winner of angry French election debate
GMO Quarterly Letter
---
Disclaimer: All data and comments are as of May 5, 2017