Week of March 27 – 31, 2017

Equities
• The S&P 500 increased by 0.82% last week and closed the first quarter of 2017 with gains of 6.07%. The energy sector led the way higher as oil rallied back above $50. There was also a renewed hope of fall tax cuts, with the presidential administration reemphasizing their goal of passing tax reform by August. This helped push banks, which have been the most sensitive to political winds, 2.31% higher on the week.
Fixed Income
• Interest rates were relatively flat last week as economic data was mixed and Fed members continue to reiterate their three hike view. Friday was the busiest day for economic releases. Markets focused their attention on the disappointing personal spending number, which showed just 0.1% growth in February. PCE was also released Friday and followed CPI's lead above 2% to reach 2.1% in February. Also similar to CPI was the strong core PCE measure, which beat expectations at 1.8% while the prior month was revised higher to 1.8% as well. February marked the PCE deflator's highest reading since April 2012 and core PCE's highest reading since July 2014.
Currencies
• The dollar was 1.35% stronger versus the euro as all eyes are on the EU's upcoming negotiation with the UK over the Brexit process. Theresa May officially triggered Article 50 on Wednesday, beginning the two-year negotiating process with the EU. The UK has struck a more docile tone in recent days, but the EU remains harsh in its criticisms against Britain. The process will continue to have an impact on both the pound and euro going forward.
• The yen was flat versus the dollar this week, holding steady near 111.39.
Commodities
• Oil reversed its recent trend and finished the week back above $50 with gains of 5.48%. Oil's largest tailwind came from Wednesday's inventory report. The report showed a smaller than expected build in overall inventories combined with a surprise drawdown in inventories in Cushing. This was much needed relief after last week's 4.95mn barrel build. However, production increased for its eighth straight week and is now just 561k bpd away from its June 2015 peak.
Economic Data Last Week

What to Watch for This Week
• The economic calendar remains busy this week, with the jobs report on Friday. Expectations are for payroll growth to slow below 200k to 177k and for wage growth to slow to 2.7%.
• We are now just three weeks away from the first round of the French election on April 23. Marine Le Pen remains in the lead in most polls, with centrist Emmanuel Macron in second place. Virtually no one expects Le Pen to win in the second round runoff, but if she does this will mark the second major European economy in the last twelve months to have an anti-European Union agenda.
Economic Data This Week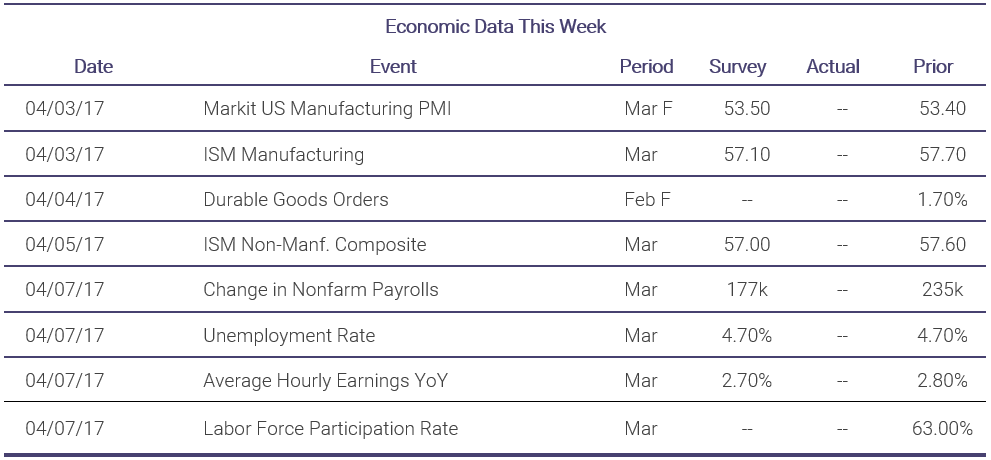 Interesting Articles
• Josh Brown: The Gains No Longer Available To You
• FT: UK lays out plans for repealing and replacing EU laws
• BMO: Markets are unprepared for a government shutdown
• FT: Brexit begins as Theresa May triggers Article 50
Disclaimer: All data and comments are as of March 31, 2017