Weekly Market Update, April 3-7
Week of April 3 – 7, 2017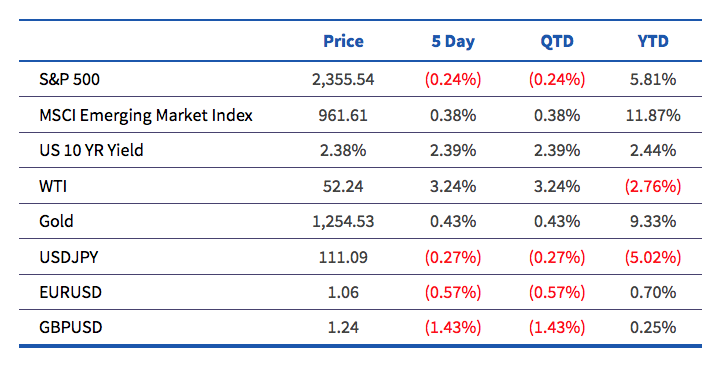 Equities
• The S&P 500 decreased by 0.24% last week. The Fed stole the show on Wednesday after their minutes suggested they may begin winding down their balance sheet later this year. After a small drop on Wednesday, the focus shifted to the Thursday and Friday meeting with President Trump and Chinese President Xi Jinping. However, the meeting was overshadowed after the US launched a missile strike against Syria on late Thursday night.
Fixed Income
• Interest rates were relatively flat again last week after a mixed interpretation to Friday's jobs report. The 10-year decreased by four basis points immediately after the release as payrolls only grew by 98k in March. However, wage growth and labor force participation remained solid and the unemployment rate decreased to 4.5%. After the initial decline, the 10-year increased by eight basis points as markets interpreted the underlying jobs data as positive and yields finished the week at 2.38%.
Currencies
• The dollar traded in a tight 0.56% range against the euro for much of the week, but strengthened after the jobs report on Friday and finished the week at 1.06. However, the dollar was down 0.27% versus the yen as the yen has remained a safe haven currency throughout the political uncertainty in recent weeks.
Commodities
• Oil rallied throughout the week as investors turned their attention to a possible extension of the OPEC production cut at the group's next meeting. However, the data continues to question the compliance of OPEC members as inventories experienced another large build this week despite a large increase in refinery utilization. Total oil inventories are now 23 million barrels above their April 2016 high while Cushing reached a new all-time high for inventory levels this week. Production and rigs also increased yet again, leaving the overall fundamental outlook for oil bleak.
Economic Data Last Week

What to Watch for This Week
• Inflation indicators highlight another busy week of economic data, with PPI being released on Thursday and CPI on Friday, despite a market holiday. Most European markets will be closed for the Easter holiday from Thursday until the following Tuesday, April 18th.
Economic Data This Week

Interesting Articles
• FT: IMF welcomes Greek reform breakthrough
• Bloomberg: Lacker Abruptly Quits Fed Over Role in Leak of Policy Plans
• SocGen: The Upcoming Central Bank Reversal Can't Be Helpful For Stocks
• FT: Fed sees chance to start reducing $4.5tn balance sheet this year
---
Disclaimer: All data and comments are as of April 7, 2017