Weekly Market Update, April 10-14
Week of April 10 – 14, 2017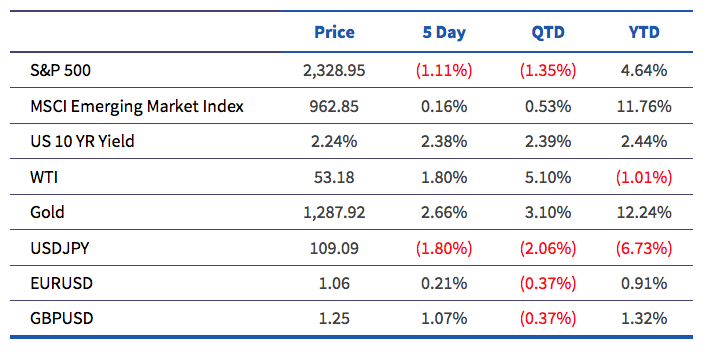 Equities
• After more geopolitical worries, the S&P decreased by 1.11% last week. Focus remains on an increasingly fragile geopolitical climate that includes strained relations with North Korea, Russia, and Syria. The increased tensions created a risk-off environment for assets, causing safe-havens such as gold and the yen to rally while riskier assets, like the S&P 500, sold-off steadily throughout the week.
o Earnings season for the first quarter is officially underway, with banks kicking off the season last week. Both JPMorgan and Citigroup posted better than expected results, while Wells Fargo is still hurting from the account-scandal of 2016. Q1 EPS for the S&P 500 is expected to grow 8.84%, led by financials, tech, and materials.
Fixed Income
• Interest rates were down by 14 basis points last week as geopolitical tensions and decreasing inflation expectations drove yields lower and increased the demand for US Treasuries. Economic data was worse than expected, with a big miss in inflation measures. Headline inflation was worse than expected after a very strong print for February, but even more worrisome was the big miss in core inflation, which registered its weakest reading since November 2015.
Currencies
• The dollar was slightly weaker versus the euro and much weaker versus the yen due to the increased demand for safe haven assets. The dollar experienced a sharp decrease on Thursday after President Trump reversed some of his beliefs in an interview with the Wall Street Journal. Trump said that he believes a strong dollar is beneficial in name only, and that he prefers the current low-interest rate policy.
Commodities
• Oil had another strong showing last week, increasing by 1.8% to $53.18. Oddly enough, oil increased every day except Wednesday, when it declined after a bullish inventory report. Total oil stocks decreased by 2.2mn barrels, their largest decrease of 2017, while Cushing stocks also posted a surprise draw. However, the rig count and production both increased yet again and production is now just 486k bpd below its all-time highs.
• Gold benefitted from the fragile geopolitical environment, increasing by 2.66%.
Economic Data Last Week

What to Watch for This Week
• Housing data dominates the economic calendar this week, with housing starts and existing home sales highlighting the calendar.
• Q1 earnings season continues, with 59 companies reporting this week.
• The first round of the French election is on Sunday. The field will then be narrowed to two candidates and a runoff will be held on May 7th. Markets will be watching closely as populist Marine Le Pen still leads the polls, with centrist Emmanuel Macron firmly in second place.
Economic Data This Week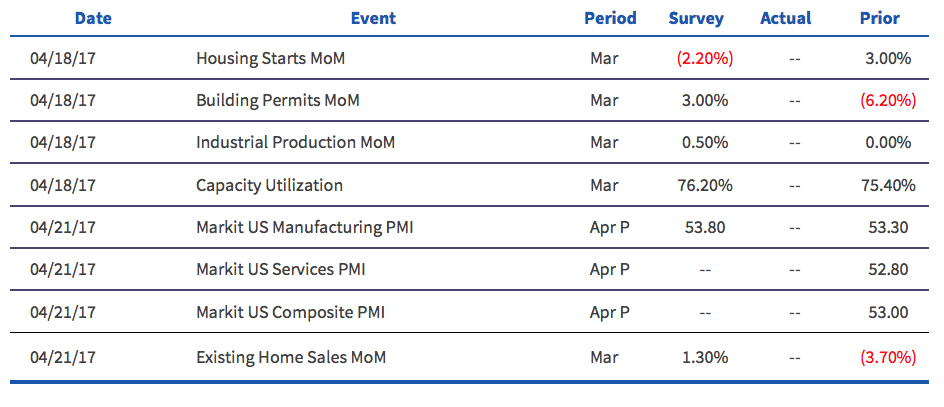 Interesting Articles
• WSJ: Forget France, Italy Could Be Markets' Big Risk
• WSJ: Trump Interview Excerpts
• WSJ: Indexes Beat Stock Pickers Even Over 15 Years
• Bill Gross April Commentary
---
Disclaimer: All data and comments are as of April 14, 2017